Principal's Desk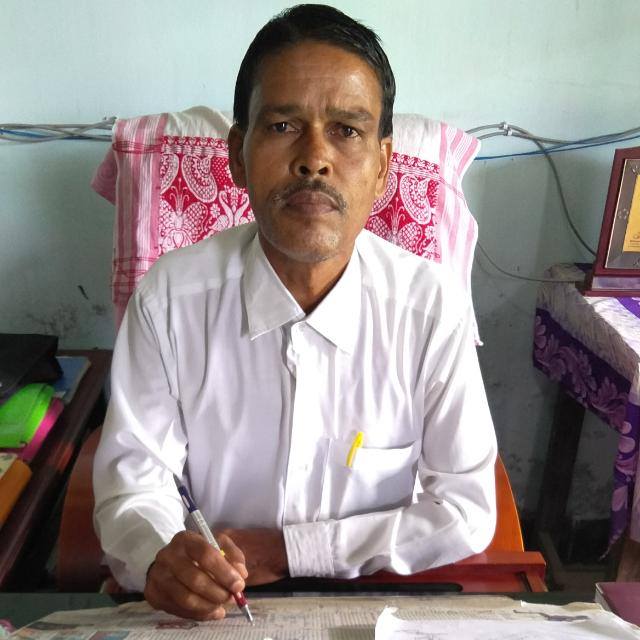 At the outset I would like to offer my best wishes to you on behalf of the Luitparia College family. Luitparia College has to traverse a long way by way of expanding as well as consolidating academic programmes, which it will maintaining the rich tradition and cultural heritage of the region as well as fulfilling its social mission of creating quality human resources in order to serve the nation with dedication
The college is a well-known name among the aspiring students, today offers different courses of study. Our emphasis is on creating quality education. The start of KKHSOU with different disciplines will also help us to reach out to even longer number of students at a minimal cost. Students who could not have availed education at other college / institutions will now be able to avail that same quality of education from their homes.
It gives me immense pleasure to announce the beginning of the new academic session of Luitparia College by inviting all the aspiring students to take admission into our three years degree courses. We very eagerly awaiting to welcome you as enthusiastic students to join our college which will give you a passport to future career.
I express my deep gratitude towards honorable Dildar Rezza, Ex. Minister, Assam along with the prominent personalities who contributed a lot to establish the college. I also like to thank all educationist, Social workers, and public of the surrounding areas who are always touched with us in every steps.
WELCOME TO LUITPARIA COLLEGE...
PROFILE OF THE COLLEGE
Name of the College : Luitparia College
Address: Alopati Majar Char
Post office: Kalairdia
District: Barpeta (Assam)
PIN: 781127
Web Site: www.lpcollege.ac.in
Email: luitpariacollegel129@gmail.com
Date of Establishment : 12th December/1993
Type of College: Affiliated (Permanent)
University to which the college is affiliated : Gauhati University
Nature of affiliation : Permanent
Government Concurrence: 7th February, 2005
Enlistment : Enlisted under 2F & 1 2B of the UGC Act 1956
Financial category : Government Provincialized
An Architect of Higher Education Success Luitparia College provides for the quality education and personal development for students of southern part of the river the Brahmaputra of  Barpeta district. The college is situated in beautiful surroundings in an enchanting rural atmosphere, far away from the impure air of city life. From the humble begining in the DRDA building premises at Alopati Majar Char Bazar and teachers with virtually no salaries. Luitparia college has come a long way. The college has curved a niche for itself through dedication and innovation that resulted in providing suitable education in present and future as well. The dedicated team of our college is constantly metamorphoses the face of education, there by culminating into a confluence of thought, knowledge and practices to facilitate the fullest development of an individual. By the dynamic leadership of Ex-Minister Dildar Rezza and with the head of the local people for establishment of a degree college in char area comes to a reality. The Luitparia college was inaugurated in 12th Dec./1993 in the southern part of Barpeta District and was the outcome of insatiable thirst for higher education of some eminent personalities and patrons of learning of this locality to provide excellent educational facilities with extra emphasis on sports and culture. Despite numeral setbacks, the college grew excellent and culminated into a full-fledged co-educational institution making provision for instruction to degree level of major and general courses in Arts under Gauhati University. The college is registered under UGC, 2F and 12B, Keeping eye on the demand of the present day the college is initiated new and innovative KKHSOU study center,. At luitparia college, we have a dedicated team of high qualified teachers, researchers and excellent support staff who are trying to meet the requirements of quality education in every possible way. Constant effort of the management and facility is to ensure the integral development of the students and bring out those qualities which are best and noblest in them to stimulate and motivate students. Moreover, lectures, fieldtrips, workshops, seminars, talks by renowned resource persons from outside are presented at regular intervals. Besides offering syllabi courses, the college offers Environmental Education, National Service Scheme (NSS), Red Ribbon club, Extension cell of the extra-curricular activities that encourage the students to provide better ideas, give shape to the future and to imbibe a feeling of confidence in human capability to overcome material, spiritual and social problems of living. Some committees/ cells have been constituted for different purposes regarding college activity. These cells are actively functioning for upgradation of the college.
Event Calendar
April 2023
M
T
W
T
F
S
S
1
2
3
4
5
6
7
8
9
10
11
12
13
14
15
16
17
18
19
20
21
22
23
24
25
26
27
28
29
30